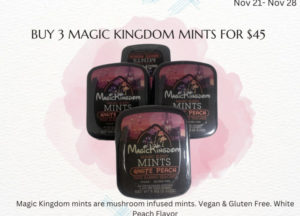 Product of the week
Magic Kingdom Mints
Nov 21- Nov 28
Buy 3 Magic Kingdom Mints for $45
Magic Kingdom Mushroom Mints are mushroom infused mints. Vegan and Gluten Free. White
peach flavor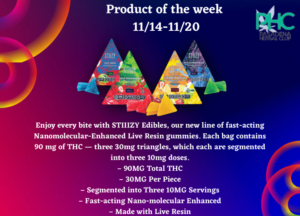 Product of the week 11/15-11/20
Stiiizy 90MG live resin gummies
Enjoy every bite with STIIIZY Edibles, our new line of fast-acting Nanomolecular-Enhanced Live Resin gummies. Each bag contains 90 mg of THC — three 30mg triangles, which each are segmented into three 10mg doses.
– 90MG Total THC
– 30MG Per Piece
– Segmented into Three 10MG Servings
– Fast-acting Nano-molecular Enhanced
– Made with Live Resin
DAILY DEALS:
Thursdays & Sundays: buy one get one @ $10 all edible
Happy hours: 10% off non flower or 4G 8th
8-10AM
4:20-6:20PM
8-10PM
Product of the week 10/31-11/6
STIZZZY 1G LIVE RESIN WAX
STIIIZY's Curated Live Resin captures the true essence of cannabis in extract form. The whole plant is harvested then immediately flash-frozen—which preserves the full spectrum of cannabinoids, boosting flavor. This unique process maximizes potency, flavor and consistency.
✨DAILY DEAL✨
$5 off every Wednesday & Sunday!
✨HAPPY HOUR✨
(10% off non flower or 4G eighths)
8-10AM
4:20-6:20PM
8-10PM
Get ready to embark on a journey with these LYT shroom Gummies! They're made with the highest quality magic mushrooms and the most FIRE Gummy candy! easy to Microdose, 5g per bag .25g each gummies!
⭐️ BOGO @ $10 all edibles on Thursdays & Sundays
⭐️ 10% off non flower during happy hour
Product of the week 10/17-10/23
MAGIA 4G MUSHROOM CAPSULES
BENEFITS
Stress relief

Neural stimulation

Spiritual inquiry

Critical thinking

Therapy

Self exploration

Mood enhancement

Recreation

Aphrodisiac
Easier to manage/guide your experience
Knowing exactly how much you consume
Ability to accurately dose in cycles
Easier to store and transport
No displeasing taste
Daily deal
Buy one get one at $10 on Thursdays

10% off happy hour
Introducing our new line of STIIIZY edibles. Your favorite live resin-infused gummies are formulated with fast-acting nanotechnology in 10 mg pieces. Enjoy the blend of both delicious and mouth watering flavors in every bite.
✨Happy hour 8-10AM,4:20-6:20PM,8-10PM
10% off edibles
✨Thursdays – buy one get one @ $10 all edible
✨ Pick any deal Sundays expect Mondays deal
Sticky Stripz is the definition of delicious and exotic THC gummies. These sweet gummy strips are infused with high quality live resin THC extract. They're available in both Indica and Sativa. Pricing at 800MG @ $45, 2000MG @ $60
✨BUY ONE GET ONE @ $10 Thursdays & Sundays
✨Get 10% off during happy hour
8-10AM
4:20-6:20PM
8-10PM
Pasadena Herbal Club 8am – 12am
PRODUCT OF THE WEEK: Alien Labs Disposable Pen
BUY 1 GET 1 50% OFF!
100% LIVE RESIN HALF GRAM DISPOSABLE
Lyt 2500mg THC Bar
12 SEPTEMBER 2022-18 SEPTEMBER 2022
Buy Two bars for $90 Save $40
8am-12am
Camino Gummie Edibles
2 for $100
Mood enhancing cannabis gummie in fresh fruit flavors that deliver the most tailered, and transporting edible experience available.
Oc Pharm
Buy one get one @ $10 dispo; @ $15 carts
Clear concentrate that tests at an average of
90% cannabinoids. It is then stabilized with a
proprietary blend and a variant of flavors
08/15-08/21
Oc Pharm
Buy one get one @ $10 dispo; @ $15 carts
Clear concentrate that tests at an average of
90% cannabinoids. It is then stabilized with a
proprietary blend and a variant of flavors
08/15-08/21
BARS
Bars 2G disposable pens
BOGO 50% off August 8th-14th
Open 8am-12am
All the things you love about the Sauce Bar disposable but with double the distillate!
testing at an average of 90%
PETRA MINIS
BOGO Free August 1st-7th
Open 8am-12am
These highly portable, decidedly poppable, and precisely-dosed cannabis mints boast rich flavors ranging from spicy to sour to sweet. Each mint contains just 2.5MG of thc or less per serving, making it easy to find your optimal dose and enhance any and every experience.
PNP CARTS
High Percentage carts that are smooth as air and get you higher than a kite! BUy 3 @ $220
STNDRD POD
STNDRD Pod Gods are the ultimate premium distillate pod. Perfect for enjoying anytime, anywhere, this discreet and sleek cartridge is compatible with STNDRD pod batteries. STNDRD makes quality vape products!
JEETER JUICE 1000MG CARTS MADE TO GIVE YOU THE PERFECT HIT EVERY TIME! THIS JUICEIS MADE WITH JUST ONE INGREDIENT. CANNABIS. AND HAS THE PUREST AND MOST FLAVORFUL CANNABINOIDS AND TERPENE CONCENTRATE AROUND!
Ice Cream Cake is a Indica Hybrid marijuana strain made by crossing Wedding Cake with Gelato #33. This strain offers sedating effects that leave your mind and body completely relaxed. Ice Cream Cake features a creamy
flavor profile with sweet hints of vanilla and sugary dough. This strain is reported by medical marijuana patients and consumers to have calming effects that help with pain, sleep, and anxiety. Ice Cream Cake weed is ideal for night time use when you have nothing important to do except watch TV and fall asleep. Growers say this strain has light green and purple buds that are completely flushed with icy trichomes.
Charas infused beverages
Buy 2 for $55
All the flavors you love! The perfect summertime drink!
06/27-07/04
Buy 1 get 1 @ 30% off
Experience the flavor of top shelf flower infused with the essence of fruit
From the earth for the people
Valid 6/20-6/27
Get 20% off all CBD Living products
Therapeutic concoctions
For relaxing baths
To soothe your troubles
MAGIC KINGDOM
Deal available 6/14-6/19
Buy 2 get 1 free Magic Kingdom Chocolates
A trip you can take from the comfort of your home!
SAUCE ESSENTIALS
High quality distillate in a 1G disposable bar. Super convenient and ready to use! Micro-USB rechargeable battery built in!
This week only, buy one sauce disposable and get another for half off!
Follow us on Instagram for exclusive deals and updates! @budsofpasadena
DABWOODS
Buy 2 Dabwoods for $100
PETRA MINTS BY KIVA CONFECTIONS
New to PHC, Kiva's PETRA MINTS. Come in pineapple, tart cherry, Moroccan mints.
Amazing versatility offering low dosage at 2.5 MG each mint and on the go packaging.
10% OFF EVERY THURSDAY
18+ NO REC REQUIRED
OPEN 8AM- MIDNIGHT | MON-SUN
295 S Rosemead BLVD Pasadena CA 91107